Beautiful natural fragrant lavender is grown on a female-owned, third-generation sustainable flower farm in the state of Washington. Harvested at peak season, dried lavender is a popular flower that is enjoyed all year.
Approximately 6-14" Tall 
50-75 Stems per Bundle
Dried and Delicate
*Naturally grown and harvested on a small flower farm in Washington, USA.  All dried products are grown by mother nature and are unique and delicate, no two bundles are exactly alike.
Find All Dried Flowers & Grasses
Customer Reviews
Write a Review
Ask a Question
10/08/2021
Ash

United States
Loved my lavendar flowers!
These flowers are beautiful and smell so good! Definitely improve the ambiance of any room! I definitely think this is one of the best purchases that I made for my home, especially to place in my bathroom and bedroom for some calmness and serenity! I am so glad that I got them!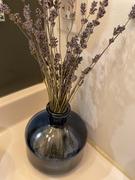 09/08/2021
Hana

United States
Love!
There were a lot of fallouts but I do understand that these are dried and delicate. As a bouquet it does look quite full and doesn't look like a lot fell out. Smells really nice! My bundle was about 14 inches tall 5 inches wide. Looks like it has more than 75 stems.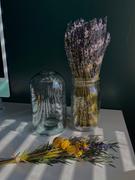 04/21/2021
D C.

United States
Wrong dimensions provided
I just received my dried lavender and was very disappointed that while the headline of the product reads that it is 14-18 inches they are actually more like 9-10". Photo attached. What you can't see in the photo is that some of the stems are pushed upwards so when put in a vase would fall to be about 5 inches. In the product description it contradicts the product headline and reads "6-14" Tall x 8-9" Wide"...I later saw that after checking to see if I ordered the wrong size. The width is way off as well. Bundled it is about 4" wide at most. The only reason I didn't give one star is because they do smell nice, just know that the dimensions are way off and to me very misleading. I bought these to gift a new vase to a relative who won't be able to maintain fresh flowers and the lavender needed to be the dimensions provided in the product headline.
Hello, We are very sorry about this! It looks like our customer service manager has reached out to make this right. We also updated the product details. Thank you, Afloral.com