For the perfect tropical touch, add artificial orchids! This beige fake phalaenopsis orchid flowers spray offers the most elegant neutral color that instantly elevates the look of your vase arrangements or wedding centerpieces.
30" Tall x 11" Blooming Portion
10 Blooms, 3.25-3.75" Wide
50% Fabric, 30% Plastic, 20% Wire
Wax Coated Silk
*Ethically made in China.
Shop All White & Neutral Artificial Flowers
Customer Reviews
Write a Review
Ask a Question
01/07/2022
Anonymous

United States
Orchid
Beautiful. Very well made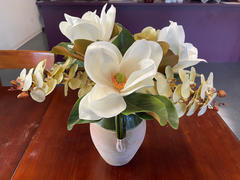 12/09/2021
Janet

United States
Orchid
The beige orchid was beautiful and I pared 3 of them with magnolias that I had. It really turned out well.