Include a feminine touch to any faux floral arrangement or bouquet with this gorgeous peach artificial English cabbage rose. This peachy-pink rose is the perfect playful pastel to help you incorporate a little soft color regardless of the season. 
20.5" Tall
Bloom, 1.75" Tall x 3" Wide
55% Polyester, 30% Plastic, 15% Wire
Fully-wired stem, easily able to be trimmed or bent with durable floral shears or wire cutters
Pairs well with butter yellow and coral tones
*Ethically made in China.
Shop All Artificial Flowers
Customer Reviews
Write a Review
Ask a Question
02/09/2021
Micaela

United States
Pretty silk rose
Very nice, a bit paler in person than the listing. Very full and lifelike, I bought this alone with the white cabbage rose and prefer this one. The bloom is a bit smaller than I expected, when I think cabbage rose I think of very large blooms.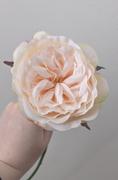 02/04/2021
Renate

United States
Stunning
It looks really real, I use it for flat lays so it's really important to me that the flowers I use don't look fake. It's perfect! In my photo this one is the flower in the top right corner.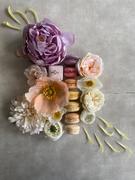 04/15/2020
Anonymous

United States
Inconsistent Quality
I have placed several orders from Afloral in the last few weeks spending hundreds of dollars. I love the variety and rare botanicals in their assortment but I find the quality is very hit or miss.  I have bought silk, soft touch, real touch and plastic greenery and florals. I wanted to return a few items from each purchase but shipping charges are astronomical and each order has to be shipped back separately. This is damaging to the environment, an extra burden to delivery divers at this time of crisis and a waste of money.